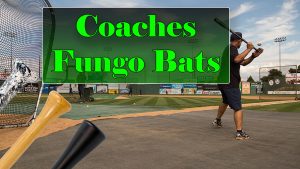 Little League baseball is a summer right of passage for boys and girls in America and abroad, and today, approximately two million kids play it worldwide.
Coaching Little League baseball is a great way to contribute to your community. But coaching can take a toll on your body. During an hour-long fielding practice session, swinging a bat can exacerbate repetitive motion injuries.
It would help if you had what baseball coaches at all levels use: a fungo bat. Not sure what a fungo bat is or why you need one? Read on to learn all the benefits of using a fungo bat.
What is a Fungo Bat?
A fungo is a lightweight, long, skinny bat coaches use during fielding drills. The typical fungo weight is 17-24 ounces. Compare that to the average weight of a wooden bat, 27-31 ounces.
Fungo bats are also 34-37 inches long with a barrel diameter of 2.25 inches.
Most fungos are crafted from ash, though some are made from maple and bamboo. These practice bats are inexpensive tools, retailing for less than $100.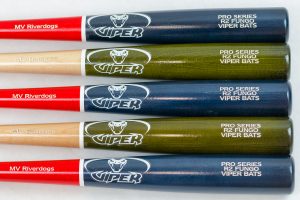 Fungo Bat Origins
The fungo bat may be as old as the game itself. The first appearance of the word "fungo" came in 1867 in Henry Chadwick's The Base Ball Player's Book of Reference.
"Fungoes" refers to a warm-up game where a player with a bat hits a pop-up fly. The player who catches the ball takes the bat for the next round.
From these rudimentary drills, the "fungo bat" was born.
Why You Need a Fungo Bat When Coaching
Coaching Little League is all about teaching young players the fundamentals. And one of the most significant fundamentals you must teach your players is how to field and throw.
Teaching these skills requires repetition. As a coach, you'll spend most of your practice hitting ground and fly balls. From there, you'll drill the proper throwing techniques and protocols.
You can hit balls to your players with aluminum or wooden bats, but fungo bats are the best baseball bat for coaches. Here's why you need one if you're coaching Little League.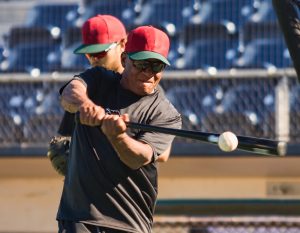 Fungo Bats are Lighter
How many times can you swing a bat in an hour? Most of your practices will include fielding drills if you're a Little League coach. Sure, regular bats can work, but how athletic are you?
Arm and body fatigue from swinging a standard bat will occur, and as the practice progresses, the balls you hit will not reflect in-game scenarios. The lighter weight of a fungo bat allows for free-swinging without taxing your body.
Thinner Barrel Improves Accuracy
Putting the ball in play is fundamental for fielding drills. But for your players to learn proper fielding techniques, you have to make sure your hit ball lands where you aim.
A fungo bat's thin barrel improves your accuracy during fielding drills. Whether you're sending a line drive into the gap or hitting a grounder to your shortstop, the fungo ensures the ball lands where you intend every time. Having your players chase poorly hit balls is detrimental to their learning process.
Fungo Bats Make Game Scenarios Easier to Replicate
The art of fielding isn't only learning how to catch a baseball. It's about knowing what to do after you catch the ball. Outfielders must learn how to track and catch fly balls, but where to throw after they catch it depends on the game's scenario, which must become a reflex.
The same goes for infielders. Learning how to field a hard-hit ground ball is crucial, but knowing where to throw it to turn a double play.
Fungo bats help you, the coach, teach these skills. You can put runners o
n the bag and hit fly balls accurately to your outfielders. From there, they can learn the proper cut-off throws.
Fungo Bats Suit One-Handed Swing
The lighter weight of a fungo bat increases your swing speed, which may mean harder hit balls. But you're teaching young kids how to field, so you can't send them rocket line drives. They could suffer severe injury.
A fungo bat is easy to swing with one hand, severely cutting the velocity while maintaining accuracy. The fungo one-handed swing can loop high flys or short choppers with ease.
Why You Need Custom Fungo Bats
A custom fungo bat is one of a baseball coach's essential tools. These custom fungos come in various colors and materials, but they're built for your body. With these bats, you can get maximum production with minimal body fatigue.
Team Viper offers fully customizable fungo bats for coaches at any level. These high-quality maple fungos get built to your exact specifications.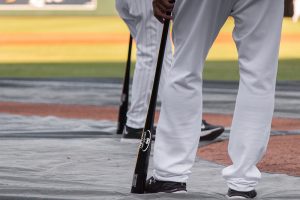 Don't Let Your Players Use It
Your fungo bat will draw attention from your Little Leaguers. It's light, long, and easy to swing. Much easier than their aluminum alloy bats.
The lighter weight and longer length will destroy thei
r hitting fundamentals. Repeated swings will destroy their timing, footwork, and swing plane.
Remember, a fungo bat is a coach's tool that helps you teach your young players proper techniques. Those proper techniques will get destroyed if your players use a fungo bat during practice.
Team Viper Meets All Your Baseball Bat Needs?
Are you ready to get out on the field with your players? Little League season is right around the corner, and if you're coaching, you'll need the best tools for the job.
Make your practices easier on your body with a custom fungo bat from Team Viper.
We can also supply bats for your entire team. Contact us today to make a custom order.